KALA



Location

Juneau, AK

Branding

MyTV Juneau

Slogan

Hey, Juneau, Let's All Be There! (Primary; Beginning Fall 2017)
Entertaining Juneau! (Secondary)
Juneau's News People (Newscast)

Channel(s)

Analog: 36 (UHF)
Digital: 37 (UHF)

subchannel(s)

36.1: KALA-MNTV/MyTV
36.2: Couch Potato TV
36.3: MyTV Life
36.4: MyTV Sports Network
36.5: MyTV En Espanol

Affiliation

MyTV (Primary)
MyNetworkTV (Secondary)

First air date

November 29, 1985

Former call letters

none

Former channel number

none

Former Affiliation

independent (1985-1995)
UPN (1995-2006)

Owner

Adelphia Communications
(Operated by Clear Channel Communications)
KALA is a dual affiliate of MyTV and MyNetworkTV and serves Juneau, AK, and it's surrounding areas. Broadcasting on channel 36, it was owned by Krueger Broadcasting. On July 6, 2016, Adelphia made the announcement that they've purchased the station from Krueger Broadcasting. After the station became an O&O (owned and operated, since Adelphia owns a share of MyTV), Clear Channel began operating the station after KALA added a secondary affiliation with MyTV.
Programming Schedule (Fall 2017)
Mon

Tues

Wed

Thurs

Fri

Sat

Sun

7 AM

MyTV News American Morning
MyTV News American Morning Weekend

7:30 AM

8 AM

MyTV Fun Machine
Captain Kangaroo

8:30 AM

9 AM

Catchphrase
Religious Programming

9:30 AM

The $25,000 Pyramid

10 AM

Lucky Numbers

10:30 AM

Millionaire Hot Seat

11 AM

The Better Sex

11:30 AM

Super Password

12 PM

Match Game

12:30 PM

GMA Lunch Break

1 PM

All My Children
MyTV Sports Programming (Varies by Season)/Movies

1:30 PM

One Life to Live

2 PM

EastEnders

2:30 PM

Emmerdale

3 PM

Passions

3:30 PM

Dark Shadows

4 PM

Match Game PM

4:30 PM

Hollywood Squares

5 PM

MyTV 36 News Live @ 5

5:30 PM

6 PM

MyTV News Tonight

6:30 PM

7 PM

MyTV 36 News @ 7
MyTV Programming

7:30 PM

The Gong Show
The $1.98 Beauty Show

8 PM

MyTV Programming

8:30 PM

9 PM

9:30 PM

10 PM

10:30 PM

11 PM

The 11 O'Clock News

11:30 PM

Brand X with Russell Brand
Mr. Show
Haven

12 AM

12:30 AM

The Larry Wilmore Show
Tosh.O

1 AM

Cheaters
SAF3

1:30 AM

Cheaters

2 AM

MyNetworkTV Programming
Paid Programming

2:30 AM

3 AM

3:30 AM

4 AM

A.M. Weather
Paid Programming
A.M. Weather

4:30 AM

MyTV News Starting Point
MyTV News Starting Point

5 AM

The Morning Exchange
The Morning Exchange

5:30 AM

6 AM

The Morning Exchange Weekend

6:30 AM
Gallery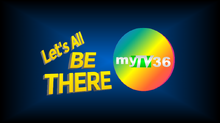 Television stations in the Juneau, AK area
KRDJ 1 (RDN)


KJNO 2 (CBS)
KKJA 6 (NBC)
KAJN 7 (ABN)
KMQA 9 (ABC)
KOLD 11 (QTV)
KJAK 13 (CW)
KJWO 15 (ITV)
KJES 19 (WBTV)
KTVJ 20 (UPN, Cable Only)
KJPT 21 (PBS)
KRIW 23 (FOX)
KLVO 28 (ABC-TV)
KALA 36 (MNTV)
KYQP 38 (Omni)

[[Template:{{{1}}}|View]] • [[Template_talk:{{{1}}}|Talk]] • [{{fullurl:Template:{{{1}}}|action=edit|edit}} Edit]