KAWI



Location

Arlen, TX

Branding

Fox 16
Fox 16 News

Slogan

Live. Local. Late Breaking.

Channel(s)

Analog: 16 (VHF)
Digital: 16 (VHF)

subchannel(s)

16.1 KAWI FOX-HD
16.2 - Heartland

Affiliation

FOX

First air date

May 6, 1965

Former call letters

none

Former channel number

none

Former Affiliation

Independent (1965-1986)
WIN Television (1986-2014)

Owner:

Tribune Broadcasting
KAWI is the FOX affiliate that serves the Arlen, TX area. It broadcasts on Channel 16. The station signed on May 6, 1965 and is owned by Tribune Broadcasting. On November 13, 2015, KAWI debuted the Fox O&O graphics used by most Krueger Broadcasting owned Fox Stations. On January 25, 2016 Krueger Broadcasting sold KAWI and KWGM to QTV Inc. as in exchange for The Pittsburgh Television Group, QTV Inc. gave them to Kenny Broadcasting as QTV Inc. owns Kenny Broadcasting (as well as BeloOne). On Apr. 22, 2017, Kenny sold the station to Tribune Broadcasting.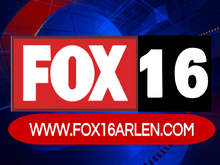 Television stations in Arlen, TX
KAKA 2 (ABN)


KARL 3 (CBS)
KVIA-DT 4 (PBC)
KAFX 5 (WIN, Argosy on DT2)
KZQ-TV 7 (NBC)
KVLQ 8 (DBC)
KART 9 (ABC)
KRKA 10 (RKO)
KDGI 13 (Acme)
KRAT 12 (RDN)
KATS 13 (QTV)
KAWI 16 (FOX)
KUAT 17 (UNI, Bachmann on DT2)
KRRO 20 (TBS)
KTXO 23 (PBS)
KAPL 26 (Plata)
KTMA 27 (TMD)
KGVQ 29 (TNT)
KITA 32 (ITV, CITV on DT2)
KMKA 35 (Mundovision)
KWGM 39 (CW)
KQOQ 43 (MNTV)
KORY 47 (MyTV/Ion)
KGRT 55 (UniMas)
KOTU 60 (PMT)
KKJG 62 (ABC-TV)
[[Template:{{{1}}}|View]] • [[Template_talk:{{{1}}}|Talk]] • [{{fullurl:Template:{{{1}}}|action=edit|edit}} Edit]