KTVV

Current logo since 2017

Location

Monroe, Lousiana

Branding

ABN Monroe
KTVV Channel 48.1 Monroe

Channel(s)

48.1 (UHF)

Subchannels

ABN - 48.1
ABN Kids - 48.2
UBC - 48.3
ABN Telemundial - 48.4
ABN Maxx - 48.5
ABN Women - 48.6
Big Sky Channel - 48.7

Affilliation

American Broadcast Network (ABN)

First air date

October 3, 1958

Former call letters

none

Former channel number

none

Former affilliation

Independent (1958-1964)

Parent

Sinclair Broadcast Group

Owner

ABN Domestic Television Corporation/SABH
KTVV is the ABN affiliate that serves the Monroe, LA broadcast area broadcasting on channel 48.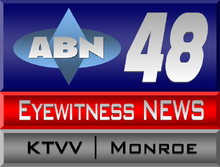 Ad blocker interference detected!
Wikia is a free-to-use site that makes money from advertising. We have a modified experience for viewers using ad blockers

Wikia is not accessible if you've made further modifications. Remove the custom ad blocker rule(s) and the page will load as expected.