PBC



Type

Television Network

Regions served

Kanto, Johto, Hoenn, Sinnoh,
Unova, Kalos, Alola,
North America, Europe, Asia, Australia

Founded

1997

Slogan

"Gotta Watch It Now!"

Headquarters

Tokyo City, Kanto

Owner

Silph Co.

Parent

Silph-PBC Media

Launch date

April 1st 1997

Picture format

1080p (HD) / 480p Letterbox (SD)

Callsign meaning

Pokémon Broadcasting Company

Predecessor

EBC (Entertainment Broadcasting Company)
EBC



Type

Television Network

Regions served

Kanto, Johto, Hoenn, Sinnoh, Unova

Founded

1932

Headquarters

Castelia City, Unova

Ownership

Independent (1934-1986)
Silph (1986-1997)
Televisa [30% share] (1989-1997)

Picture format

480p

Callsign meaning

Enterprise Broadcasting Company (1934-1986)
Entertainment Broadcasting Company (1986-1997)

Successor

PBC (Pokémon Broadcasting Company)

Ceased

1997

Fate

Merged with Game Freak Communications to form PBC
The Pokémon Broadcasting Company, also known as PBC is a Japanese owned bilingual commercial television and radio network. The network's headquarters is located in the Silphton Tower in Tokyo City, Kanto. The network is known for broadcasting Pocket Monsters, their most iconic and longest running video game based anime show, which also launched the company and PBC's Japanese TV operations on April 1st, 1997 at 6:30 JST. The network is sometimes referred as the "Pokéball Network" due to their logo. Also, PBC began its American operations on September 8, 1998, coinciding with the US television debut of the Pokemon anime.
Timeline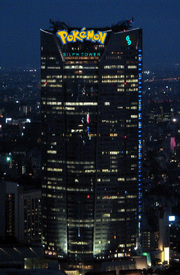 1932 - Formed as a radio network called "Enterprise Radio" in Castelia City, Unova
1934 - EBC was establish as "Enterprise Broadcasting Co." starting with PX01CT (Now known as PXGF-DT 5)
1939 - Established an experimental radio station in the Kanto Region (PXKT-AM 530)
1952 - Launched their very first TV station in Kanto under the call sign PKTO-TV 5, now known as PKMN-DT 5
1953 - Launched TV station in Johto as PJXT 12 (Now known as PPBC-DT 24)
1954 - Established TV station in Sinnoh as PX07J 7 (Now known as PSVN-DT 7)
1963 - Debut of the Astro Boy anime
1964 - Broadcasted their first sports program, covering the 1964 Tokyo Olympics
1965 - Buys independent Hoenn station HXFD 9 in Petelburg (Now known as HPBC)
1968 - EBC becomes a full fledged TV Network in the US and expanded stations in San Francisco, Miami, Panama City, Phoenix, and Chicago
1986 - Silph Co. buys EBC for a 50% share and renames it as "Entertainment Broadcasting Corp."
1987 - Silph Co. and EBC established EBC-Silph Telecommunications
1989 - EBC-Silph acquired Televisa
1992 - Sailor Moon debuts on EBC
1996 - Formed a joint venture with Game Freak to established "Pocket Broadcasting Co.", a precursor to PBC.
1997 - Final episode of Sailor Moon reached the highest viewership in EBC's history. Deal with Televisa expires and PBC was launched for TV with the premiere of "Pocket Monsters" (or Pokemon), Involved with the great Pokemon Seizure Crisis of 1997 [1]
1998 - Due to the Seizure Crisis, Silph Co. decided to do a complete relaunch and renamed it as "Pokémon Broadcasting Company", EBC USA becomes PBC America.
1999 - Remains of EBC cease to exist.
2006 - Begins HD broadcast
2007 - Begins broadcast in HD in the US
2009 - The Pokémon TV series began broadcasting in HD
2011 - PBC launches TV stations in Europe, Asia and Australia under the name "PBC International".
2013 - PBC launches a 3D channel called "PBC in 3D". Ceased operations on January 1st, 2015.
2014 - PBC remakes the classic Sailor Moon program in HD under the name "Sailor Moon Crystal", the first program from EBC remade by it's successor.
O&O stations
Pokemon World
PKMN-DT 5 in Tokyo City, Kanto (Saffron, Cerulean, Celedon)
PPBC-DT 24 in Goldenrod City, Johto
PSVR-DT 4 in Cherrygrove City, Johto
PJEK-DT 7 in Ecruteak City, Johto
HPBC-DT 9 in Petelburg City, Hoenn
HOEN-DT 9 in Lilycove City, Hoenn
PSVN-DT 7 in Jubilife City, Sinnoh
PXGF-DT 5 in Castelia City, Unova
PBCK-CH1 (PBC Kalos) in Lumiose City, Kalos broadcasting on channel 34
United States
KPCI-DT 2 in Seattle, WA
KPBC-DT 14 in Los Angeles, CA
WPBC-DT 14 in New York, NY
Logos
All the PBC logos were designed by Silph Design Solutions
Ad blocker interference detected!
Wikia is a free-to-use site that makes money from advertising. We have a modified experience for viewers using ad blockers

Wikia is not accessible if you've made further modifications. Remove the custom ad blocker rule(s) and the page will load as expected.