WCAN



Location

Milwaukee, WI

Branding

CBS 25
CBS 25 News

Slogan

We CAN serve Wisconsin.

Channel(s)

Analog: 25 (UHF)
Digital: 6 (VHF)

subchannel(s)

25.1 WCAN-CBS
25.2 Decades
25.3 CBS Sports Network
25.4 AMC
25.5 This TV

Affiliation

CBS (O&O)

First air date

February 27, 1955

Former call letters

none

Former channel number

none

Former Affiliation

none

Owner:

CBS Television Stations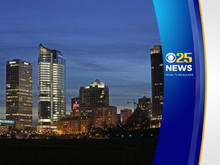 WCAN is the CBS-owned-and-operated station that serves the Milwaukee, WI area. It broadcasts on channel 25 and is owned by CBS Television Stations. On November 6, 2015, WCAN debuted the CBS O&O graphics. WCAN is also part of a duopoly with Independent station WBLS.
Beginning April 2018, WCAN will air select weekend afternoon Brewers games when CBS Sports doesn't have any programming scheduled.
History
WCAN signed on the air on February 27, 1955 as a CBS affiliate. It was originally owned by Chicago based Weigel Broadcasting. In January 1999, CBS was looking to purchase a station in Milwaukee because of it's close proximity to Chicago and WCAN's signal covers some of Chicago's North Suburbs. On February 2, 2000, CBS made a deal with Weigel Broadcasting to buy WCAN and turn it into a CBS-Owned and operated station. The sale closed on May 8, 2000, which officially made WCAN a CBS-Owned and Operated station. On January 11, 2011, CBS decided to sell their smaller market stations including WCAN to Krueger Broadcasting. The sale was completed on June 5, 2011. Krueger Announced it would sell 11 stations to BeloOne. It was approved December 24, 2015. On August 2, 2016, BeloOne announced that it would trade WCAN to CBS in exchange for WPOK in Salt Lake City and WHUS-TV in West Palm Beach.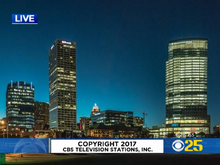 Television stations in Southeast Wisconsin, including Milwaukee and Kenosha
WMIW 2 (NBC)


WMIL 3 (RDN)
WINC 4 (MyTV)
WON-TV 5 (UPN)
WMJT 6 (ABC)
WXCL 7 (UDC)
WQTF 8 (YesNet)
WJTI 9 (Channel America)
WGXK 10 (Global)
WRMI-TV 11 (TMD)
WNLMW 12 (New Line)
WKTI 13 (Fox)
WOKY 18 (CW)
WCGV 24 (KTTN)
WCAN 25 (CBS)
WIBG 28 (ABN)
WOLJ 33 (TNT)
WBTF 35 (WB)
WAWA 36 (MNT)
WMUN-DT 44 (Uni)
WAUK 49 (MyTV/Ion)
WMKD 67 (DBC)

[[Template:{{{1}}}|View]] • [[Template_talk:{{{1}}}|Talk]] • [{{fullurl:Template:{{{1}}}|action=edit|edit}} Edit]