Not to be confused with WFTC, the real life MyNetworkTV affiliated station serving Minneapolis/St. Paul, Minnesota.
WFTC



Location

Carcer City, LI

Branding

WFTC 24 (primary)
RKO 24 (secondary)
News 24 (newscasts)
ExacTrack Weather (weather)

Slogan

Your 24 Hour News Service!
More News. More Often

Channel(s)

Digital: 26 (UHF)
Virtual: 24 (PSIP)

subchannel(s)

24.1 WFTC-RKO

Affiliation

First air date

July 6, 1946

Former call letters

WRKC (1946-2017)

Former channel number

Analog: 64 (UHF, 1946-1967)
Analog: 24 (UHF, 1967-2009)

Former Affiliation

none

Owner
WFTC
is the
RKO Network
affiliated station that serves the Carcer City, LI broadcast area. It broadcasts on channel 24 and is owned by
Berfield/Willis Broadcast Corporation
.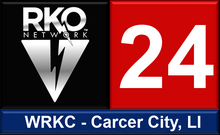 Voiceover History
"Live from WFTC-TV. This is News 24 Live at (time)" (2017-present)
News Themes
U-Phonix - Stephen Arnold Music (2017-present)
Website History
www.carcercitylive.com (2017-present)
Ad blocker interference detected!
Wikia is a free-to-use site that makes money from advertising. We have a modified experience for viewers using ad blockers

Wikia is not accessible if you've made further modifications. Remove the custom ad blocker rule(s) and the page will load as expected.