WFXN

Updated Logo

Location

New York, New York

Branding

Fox 10 (general)
Fox 10 News (newscasts)

Slogan

New York's Most Trusted 10:00 News Team!

Channel(s)

Analog: 10 (UHF)
Digital: 39 (UHF)

subchannel(s)

10.1 Fox-HD
10.2 Movies!
10.3 FX
10.4 FXX
10.5 Fox Sports 1
10.6 Fox Sports 2
10.7 Fox News Channel
10.8 Light TV

Affiliation

Fox (O&O)

First air date

August 21, 1959

Former call letters

WNYU (1959-1986)

Former channel number

none

Former Affiliation

Independent (1959-1986)

Owner

Fox Television Stations
WFXN is a Fox-owned-and-operated station that serves the New York City market. The station broadcasts on Channel 10. Syndicated programming on WFXN includes: The Dr. Oz Show, USA Today on TV, Judge Mathis, and How I Met Your Mother among others. WFXN is also a flagship station of the Fox Broadcasting Company.
On June 26, 2016, FTS COO Kruejac announced that FTS would be buying helicopters for most of its O&O stations, so WFXN got a new helicopter for Breaking news, weather and daily traffic reports.
News Voiceovers:
Roger Thompson (1983-2002)
Scott Chapin (2002-2007)
Chris Corley (2007-present)
Gallery: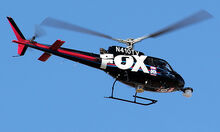 Television stations in the New York Metropolitan area
WNBC-TV (1.1 NBC, 1.2 Cozi TV, 1.3 NBC Weather Plus, 1.4 NBC Nonstop) | WIMP (2.1 IMP) | WITV-TV (3.1 ITV) | WQNY-TV (4.1 MyTV En Español) | WBNY-TV (5.1 NTC, 5.2 NTC SD) | WRKO-TV (6.1 RKO, 6.2 NY NewsChannel, 6.3 RKO Two, 6.4 RKO Kids, 6.5 RKO News, 6.6 RKO Sports, 6.7 RKO Movies) | WFOD-TV (7.1 Food Network) | WNEW (8.1 ABC, 8.2 LWN, 8.3 Laff, 8.4 ABC News Now, 8.5 Vault Disney) | WMBN (9.1 TNN) | WFXN (10.1 Fox, 10.2 Movies!, 10.3 FX, 10.4 FXX, 10.5 FS1, 10.6 FS2, 10.7 FNC, 10.8 Light TV) | WEVE-CD (11.1 Mega TV) | WCBS (12.1 CBS, 12.2 Decades, 12.3 AMC, 12.4 CBS Sports Network) | WDNY (13.1 DBC, 13.2 UDC) | WPBC (14.1 PBC) | WHRV (15.1 CW, 15.2 Antenna TV, 15.2 This TV, 15.4 Channel America) | WAHX (16.1 ABC-TV) | WMYN (17.1 MNTV) | WBCO (18.1 BBC1)| WNYC (19.1 ABN, 19.2 ABN News, 19.3 ABN Kids, 19.4 Mundovision, 19.5 ABN Women, 19.6 ABN Maxx, 19.7 ABN Sports New York, 19.8 UBC, 19.9 Big Sky Network) | WTNY-TV (20.1 The National Television, 20.2 NOW, 20.3 Now Business, 20.4 Bounce TV, 20.5 WeatherNation TV) | WXMX-DT (21.1 Mas Network, 21.2 Azteca America) | WGWB (22.1 PBS, 22.2 Create, 22.3 PBS Kids, 22.4 VMe, 22.5 World) | WCYN (23.1 IND) | WNPB (24.1 PBS) | WNYM (25.1 IND, 25.2 7 Net) | WUVO (26.1 UNI, 26.2 Grit, 26.3 Comet TV) | WSBN (27.1 SBN, 27.2 Shine News, 27.3 Shine Sports, 27.4 Teenager Network) | WTVL (28.1 TV Land) | WGLB (29.1 Global) | WLIN (30.1 IND, 30.2 WLIN 24/7 News, 30.3 Z Channel) | WBWN (31.1 UA | WGLD-TV (32.1 Edu. IND) | WCBT (33.1 CBC | WNYP (34.1 UPN | WNYA (35.1 ACME) | WFMU-TV (36.1 MyTV, 36.2 The Health Channel, 36.3 MyTV Sports Network) | WION (37.1 Ion, 37.1 Qubo, 37.3 Ion Life, 37.4 Ion Shop, 37.5 QVC, 35.6 HSN) | WTSN (38.1 WB) | WNYX (39.1 ABS, 39.2 N24, 39.3 JOBX, 39.4 eNCA, 39.5 Hunan TV, 39.6 NHK BS1, 39.7 NHK World) | WMLP (40.1 RDN, 40.2 UPN Retro) | WTBC (41.1 TBS) | WYHR (42.1 YesNet) |WTEL (43.1 TMD, 43.2 TeleXitos, 42.3 Live Radar, 43.4 La Mega Mundial, 43.5 NYU-TV) | WBCT (44.1 BBC2) | WNYO-TV (45.1 Azara) | WDQX (46.1 PBS, 46.2 PBS Encore, 46.3 MHz Worldview) | WKTN (47.1 KTTN, 47.2 MKTV) | WTAN-TV (48.1 TACTN) |WONY (49.1 Omni) | WWBY (50.1 Turner South) | WJNY (53.1 JFN) | WSKR (55.1 Globo) | WFNY-DT (56.1 Freemont Network, 56.2 New York's Music Channel, 56.3 Huboom!) |WNYI (57.1 IND, 57.2 Planet Green) | WNYR (58.1 IND) | WRLT-TV (59.1 RKO Latino) | WNLNY (60.1 NLN, 60.2 Cartoon Cartoons, 60.3 Cartoon Network's Cartoon Theatre, 60.4 CNNfn, 60.5 Cable Music Channel) | WPAR-TV (61.1 Paramount Network, 61.2 MTV, 61.3 VH!, 61.4 Nickelodeon, 61.5 CMT, 61.6 BET) | WSPN (62.1 Sony Pictures Network) | WUMA (63.1 UniMas, 63.2 Escape) | KCHT (64.1 Chinese IND) | WKNY (65.1 IND; Hudson Valley) | WTNC (66.1 TNT, 66.2 TNT Classics, 66.3 TNT Wx Now) | WINY (67.1 WIN) | WMGM (68.1 MGM) | WNYSM (69.1 The Q, 69.2 MTV2, 69.3 MTV Tr3s, 69.4 Nicktoons, 69.5 90s channel)
[[Template:{{{1}}}|View]] • [[Template_talk:{{{1}}}|Talk]] • [{{fullurl:Template:{{{1}}}|action=edit|edit}} Edit]