WHKG-TV



Location

Raleigh/Durham, NC

Branding

FOX 6
FOX 6 News

Slogan

The most powerful name in Raleigh news!

Channel(s)

Analog: 6 (VHF)
Digital: 7 (VHF)

subchannel(s)

6.1 WHKG-FOX
6.2 Antenna TV

Affiliation

Fox (O&O)

First air date

September 10, 1974

Former call letters

WRNC (1974–1986)

Former channel number

None

Former Affiliation

Independent (1974–1986)

Owner:

Fox Television Stations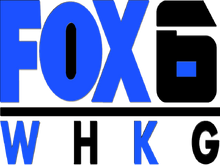 WHKG is the Fox-owned-and-operated station that serves the Raleigh/Durham, NC area. It broadcasts on channel 6. The station is owned by Fox Television Station. WHKG is the primary station for the Carolina Panthers in the Raleigh market.
History
WRNC was launched on Sept. 10, 1974 as a religious independent, airing programming including The 700 Club, as well as children's cartoons during the day, and family movies throughout the night. The Raleigh Ministry Alliance were the first owners of the station. By the end of the decade, however, the Alliance sold the station to Hobbs Broadcasting. The station dropped The 700 Club in 1982. In 1986, WRNC became an affiliate of the upstarted FOX Broadcasting Network, and changed their call letters to WHKG. In 1992, Hobbs Broadcasting sold the station to Artesia Broadcast Group, and they began to upgrade the station. The newscast was launched in 1995, and in 2000, WHKG moved to their new studios minutes away from the PHC Arena. In 2014, Artesia sold the station to Krueger Broadcasting. On June 26, 2016, WHKG's owner, New World Communications sold the station to Fox Television Stations, therefore making it a Fox-owned-and-operated station, and the 2nd network-owned station in Raleigh along with ABC-owned WDUR.
Logos
Television stations in Raleigh/Durham area
WEDU 3 (CBS)


WDNC 4 (QTV)
WJRD 5 (UDC)
WHKG 6 (FOX)
WRDU 7 (Acme)
WDRL 8 (DBC)
WAKD 9 (NBC)
WHTR 12 (WB)
WDUR 13 (ABC)
WSDF 15 (ITV)
WNCK 16 (H&I)
WEDA 18 (ABN)
WDHD 21 (PBS)
WETC 24 (ION)
WHJL 25 (MNT)
WPRD 30 (UPN)
WVYL 35 (RDN)
WPTK 36 (MyTV)
WGFJ 45 (CW)
WKTV 55 (BA)
WFAY 62 (YesNet)
WRRK 40 (RKO)

[[Template:{{{1}}}|View]] • [[Template_talk:{{{1}}}|Talk]] • [{{fullurl:Template:{{{1}}}|action=edit|edit}} Edit]