WHOF



Location

Pittsburgh, PA

Branding

CBS 13
Pittsburgh News


Slogan

Pittsburgh likes CBS.

Owner:

CBS Television Stations

subchannel(s)

CBS News (DT2)
Showtime (DT3)
CBS Sports Network (DT4)
AMC (DT5)

Affiliation

CBS (O&O)

First air date

8/7/39

Former call letters

WOKA (1939-1956)

Former channel number

10 (1939-1945)

Former Affiliation

Dumont (1939-1945)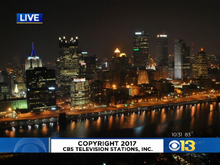 WHOF is a CBS-owned-and-operated station that serves the Pittsburgh, PA market. The station broadcasts on Channel 13 and is owned by CBS Television Stations. WHOF is the primary station for the Pittsburgh Steelers. On July 17, 2016, CBSTS announced that it would buyout the rest of Planeta's stake in the station, making WHOF 100% owned by CBS.
History
WHOF is a CBS afflilate and broadcasts on channel 13. It first went on the air as a DuMont affiliate.
Newscast titles
WOKA News (1943-1956)
WHOF Pittsburgh News (1956-1979)
Newscast (1979-1980)
Pittsburgh News (1980-)
Morning
Pittsburgh News at Morning (1980-1996)
Pittsburgh News Morning (1996-)
Afternoon
Afternoon Newscast (1979-1981)
Pittsburgh News Afternoon (1981-2004)
Afternoon News (2004-)
Night
CBS Nightly News (1995-)
Pittsburgh at Midnight (February 2013-)
CBS Midnight News (April 2013-)
Television stations in Pittsburgh
WDKA-TV 2 (ABN)


WLTL 3 (YesNet)
WHDG 4 (ABC)
WPIX 5 (QTV)
WHKU 7 (NBC)
WPBR 8 (Acme)
WPTP 9 (UPN)
WDHF 10 (FOX)
WHOF 13 (CBS)
WGSP 15 (Freemont)
WFJD 17 (CW)
WCKF 19 (Hyper)
WDPT 21 (DBC)
WGKS 22 (MNT)
WJNF 24 (JFN)
WGKX 29 (PBS)
WPTT 36 (New Line)
WPTU 38 (UDC)
WHKF 40 (IND)
WXLG 43 (WB)
WRPT 46 (RKO)
WPHC 63 (Ind)
WGMS 65 (Mas Network)

[[Template:{{{1}}}|View]] • [[Template_talk:{{{1}}}|Talk]] • [{{fullurl:Template:{{{1}}}|action=edit|edit}} Edit]